Young Adult. Free Kindle Young Adult Emails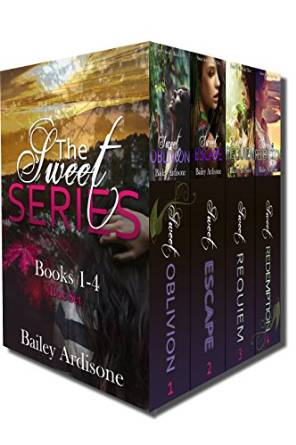 *** YA Romance Excellent 4 Book $1 Box Set Deal
*The Sweet Series Box Set: Books 1-4 (Deal, Not Free) by Bailey Ardisone. Price: $0.99. Genre: YA Paranormal Romance Box Set Deal, Sponsor, New Adult & College Romance, YA Fantasy. Rated: 5 stars on 2 Reviews. 374 pages. ASIN: B00D6VAM3K. Reviewers: An amazing magical series! This is a wonderful foundation for what promises to be a sweet series! I seriously love the mystery in the entire story! I like to think of the first book of this series as leaving a trail of breadcrumbs to awesome things to come. Each of the secrets held and the unexplained mysteries is just one more crumb that will lead you to a twisty, suspenseful, lovable and sweet thrill ride with many more incredible things to follow! A whirlwind of fantasy and love! Give it a try, you'll fall in love with it for sure!
*** Free YA Romance from Author whose book was optioned for film by Michael Eisner
*Just Your Average Geek by Kristina Springer. Price: Free. Genre: YA Romance of the Day, Sponsor, Michael Eisner Purchased for Film, Macmillan, Scholastic, Springer, Contemporary Romance, Humorous. Rated: 4 stars on 55 Reviews. 153 pages. ASIN: B00FW1Z2CI. Reviewers love it: A ridiculously entertaining read! I am now officially a Kristina Springer fangirl! I purchased this book because it looked like fun – ended up enjoying it more than I expected! I strongly recommend reading this book!
The Veil Between (The Dreamwalker Book 1) by Jennifer Luque, Nikki Rae. Price: Free. Genre: YA Paranormal Romance, Paranormal & Urban, Paranormal & Fantasy. Rated: 4.8 stars on 5 Reviews. 272 pages. ASIN: B016IYDWQ0.
*** YA Fantasy, YA Thrillers
**ORDER OF SEVEN by Beth Teliho. Price: Free. Genre: YA Historical Thriller, Sponsor, YA Thriller, Mystery, Fantasy, Myths & Legends, Metaphysical & Visionary. Rated: 4.9 stars on 72 Reviews. 250 pages. ASIN: B00U2VX80Q. Reviewers love it: This book is a gem! It was by far one of my favorite books of 2016! I have never read a book this unique in a long time! This book is so intricate and I felt like I was in a trance and couldn't break out of it as I read it! Immensely satisfying! It sucked me in and held me hostage until I reached the very end! I even fell in love with the poetry and the epilogue! Should you read this story? Absolutely!
*The Great Death (Deal, Not Free) by dr ish ism. Price: $0.99. Genre: YA Science Fiction Deal, Sponsor, Cyberpunk, Dystopian, Space Opera. Rated: 5 stars on 1 Reviews. 287 pages. ASIN: B01ASDE2PW. An alien hides her supernatural gifts and lives with her adoptive tribe along the Great Michigan Desert. When the Great Death threatens her world she must step into a New Earth where Shangri-La is the center of everything and Shangri-La has even conquered death.
The Mendelssohnian Theory: Action Adventure, Sci-Fi, Apocalyptic ,Y/A by Dor Toker. Price: Free. Genre: YA Thriller, Cyberpunk, Dystopian, Genetic Engineering, Metaphysical & Visionary, Military, Teen & Young Adult. Rated: 4.2 stars on 30 Reviews. 354 pages. ASIN: B016X36XWG.